For trip with jogjavacation, please contact here.
Bang Saray Beach is among the most pleasant stretches of sand in the Pattaya area, as well as being a very small, quaint town with a very local atmosphere. It is only just being discovered as a low-key alternative to Pattaya's hectic hedonism, giving you the chance to enjoy calm days where you have the beach almost to yourself as well as peaceful nights undisturbed by loud music and bright lights.
The sand of Bang Saray Beach is some of the finest you will find on Thailand's eastern seaboard, although you won't see much of it during high tide as the water comes in right to the promenade. Even in the middle of the high season, you will find more local families and fishermen there than tourists, not least because there are so few hotels in the area. You will see a few new ones under construction, though, along with some condo developments, so be sure to visit soon to enjoy this peaceful destination.
Read More
Bang Saray Beach Facilities
Approximately one third of Bang Saray Beach is lost to the local fishing piers. Fortunately, there is still plenty of sand to be found and the presence of a large fishing community means that there is a wealth of first-rate local seafood restaurants. The piers themselves are worth taking a look at for the scenes of everyday local life, as is the impressive Wat Bang Saray nearby.
Further along the coast, heading north, you will find Bang Saray Public Park which is a very cool and pleasant place with toilets and outdoor gym equipment. On the beach side, in this area, you will find a large sculpture of a whale shark as well as one of a mermaid holding a 'merchild'. Although quite rare, whale sharks have been spotted by scuba divers in the area and the wreck of the so-called "Hardeep" (a cargo ship sunk by aerial bombing during World War II) is found nearby and is a popular dive site.
This road running through the park – as marked by impressive arches – is the site of the Bang Saray Walking Street market on the second Sunday of every month. It hosts an impressive selection of stalls, mostly selling snacks, street food and clothing. The market is much more geared towards locals than it is tourists, so you won't find so many of the typical Thai market souvenirs like Singha singlets and elephant statues. Prices are also generally much lower. In the area around Bang Saray Beach, you will find the Sattahip Naval Base and the Navy's golf course. Nong Nooch Tropical Botanical Gardens is close by, as is the Cartoon Network Amazone Waterpark.
Bang Saray Beach Restaurants & Food
The top dining in Bang Saray Beach is found along the coast road. Around the pier, this means quite large local Thai seafood restaurants such as Rim Hat Seafood, BangSaray Seafood, Jay Juk Seafood Restaurant 4 and several others. Being mostly targeted at Thai customers, some don't even have English on their front signs. However, the freshness of the ingredients and the quality of the preparations make these some of the best seafood restaurants in the area, with locals and even some expatriates travelling all the way from Pattaya and other nearby provinces on a regular basis to enjoy their excellent dishes.
Further along the beach, you will find mobile stalls (which have become semi-permanent) at regular intervals, selling simple local dishes and snacks. Many have small tables set out by the beach, designed for sitting on the ground to eat at. Very few have tables with chairs.
Bang Saray Beach Nightlife
There is very little to do in Bang Saray after the sun goes down, with barely a handful of pubs and bars to choose from. You can tell that many of the expatriates living here are British by names like The Fox and Hounds and the Nag's Head. Other popular establishments include Jasmine Bar, The Lizzard's Lounge and Dawsey's Down Under. The nightlife in Bang Saray is overwhelmingly of the 'quiet conversation over a few drinks' style. You won't find any of the raucous nightclubs or raunchy go-gos of Pattaya.
Where to Stay near Bang Saray Beach
There are presently very few hotels on Bang Saray Beach and not even that many more in the town behind it as it has yet to be really 'discovered' by the tourism industry at large. Most of the limited number of places there are can be found close to the town's main fishing pier and are mostly mid-range in terms of both quality and price.
The finest hotel in the area is the Pattaya Sea Sand Sun Resort and Spa at the northernmost extremes of the area. Accessed down a separate street off Sukhumvit Road without any connecting it to the town, it is somewhat isolated, but provides the ultimate escape if you desire a bit of beachside peace and quiet. The nearby U Pattaya hotel also has its own stretch of beach but is slightly cheaper and has more direct access to the rest of Bang Saray.
Within Bang Saray town, the seaside choices include the Ruenton Resort, Baan Tah On The Sea and Baan Pimpisa Bangsaray. They are all conveniently located for access to the town's many seafood restaurants and the limited nightlife, but they do not have a section of Bang Saray Beach to call their own.
Getting to Bang Saray Beach
Bang Saray Beach is located about 20 km south of Pattaya and is very easily reached by driving along Sukhumvit Road for about 25 minutes. You will see the turning for Bang Saray on the right, shortly after you pass the Cartoon Network Amazone Waterpark. It is a regular stop for most of the southbound minivans leaving the city, with very low prices for the journey (generally less than 100 baht per person).
Bang Saray Beach
Location: Bang Saray, Sattahip, Chonburi




















Hide Map
Show Map
Rate This Place:
Rated
( votes)
Tours You May Like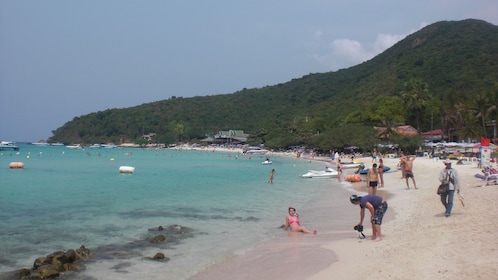 Koh Larn Coral Island Day Trip with Lunch
by Tour East Thailand
Duration 7h
Free cancellation
USD
32
per adult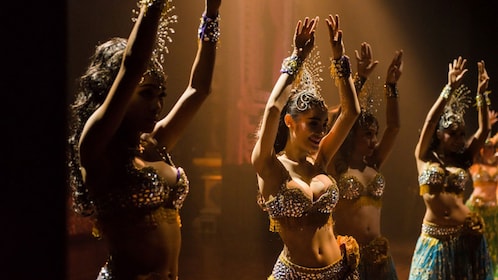 Alcazar Cabaret Show with Transfers
by Tour East Thailand
Duration 1h 10m
Free cancellation
USD
31
per adult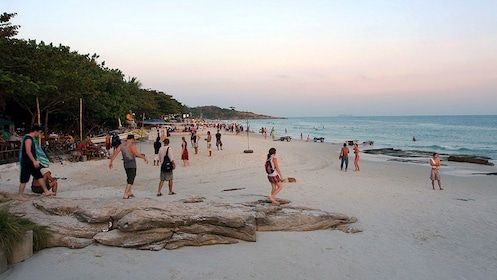 Ko Samet Island Full-Day Excursion
by Tour East Thailand
Duration 10h
Free cancellation
USD
48
per adult
We try to provide free information that is as up-to-date and accurate as possible. However, if you are planning to travel it's a good idea to double check specific dates and information to avoid surprises.
0